The School Day:
Students are required to be at school by 8:35am and the final bell rings at 3:20pm.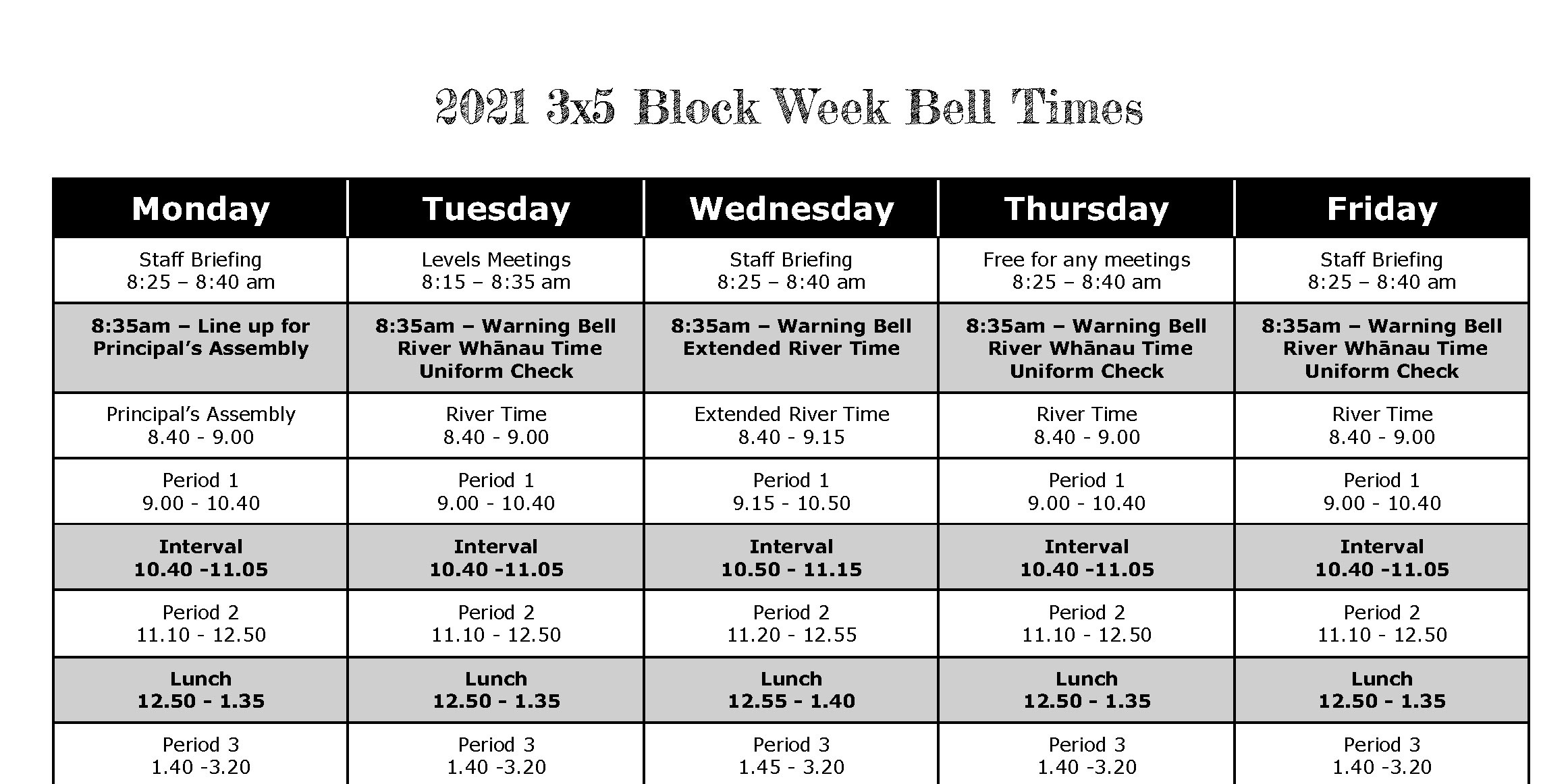 Attendance:
A young person is required by law to attend school every day on which the school is open until the age of 16 years is reached.  A 90% attendance rate is required to achieve the Junior Certificate of Learning, the Junior Diploma of Learning and for Senior Graduation. Absence for ill health, medical or dental appointments and family bereavements require an explanation from parents / caregivers. We appreciate parents emailing (studentservices@haurakiplains.school.nz) or phoning in and leaving a message on any day your child is absent. Parents can also communicate an absence via the school app. Absence for matters outside the above, especially extended absences require the principal to be informed. Please be aware that in most cases, the Ministry deem absences, such as family holidays, to be unjustified.
Passes Out of School:
For safety reasons, it is essential that the school knows the whereabouts of pupils at all times during the school day. Pupils who need to leave the school grounds for any reason during the school day need a Street Pass.  This is issued by the Duty Dean and requires a written note from home.  Street passes are not issued to buy lunch or food downtown.
Students are not permitted to go home or visit the homes of friends during interval or lunchtimes.
Illness at School:
A sickbay facility caters for pupils suffering injury or who are temporarily unwell. Children who are clearly unwell at home should not be sent to school. Staff trained in First Aid are on hand to deal with most minor injuries and illness.  In more serious or urgent matters, pupils will be referred to the Health Centre in Ngatea and the College will make every effort to contact parents / caregivers or the emergency contact number. To assist in this, it is essential that an emergency contact phone number is given to the College on enrolment.
Pupils who become unwell during the school day will be directed to the sick bay and in most cases, parents / caregivers or the emergency contact will be contacted for the student to be collected and taken home. Parental consent is required for pain relief medication to be issued.
Bus Travel:
To be eligible to travel on school buses, students must live more than 4.8 kilometres from the college.  For specific information on bus routes contact: Murphy Buses 07 868 6265 for In-Zone pupils, Paeroa - Dee's Buses – 07 862 6985 or Tairua – 027 211 0983 for Out of Zone. Pupils are expected to be at their pick-up point at least 10 minutes prior to the suggested pick-up time.
Notes are required from parents on the preceding day, if for any reason, pupils wish to travel on a different bus. The Bus Controller and Bus Company have ultimate authority on whether a pupil may travel on a different bus and the note requesting permission must be signed.
Because the safety of so many people is involved, strict standards of behaviour are enforced on school buses. Students need to be mindful that they may lose the right to travel on a school bus if behaviour is unacceptable. Any queries regarding school transport should be directed to the Bus Controller at the college.
Students Bringing Vehicles to School:
The safety of students is our first consideration and students are not encouraged to bring vehicles to school.  If it is necessary to do so, students need to complete a Vehicle Permit form from the Student Centre requesting permission to do so. Student and parent responsibilities are outlined on this form.
Picking Up Students During School Hours:
Parents calling for students during the school day must arrange to pick them up at the Student Centre.
Use of Cell Phones:
Cell phones may be used for learning purposes only under the direct supervision of a teacher. Please refer to Technology Zones. It is acknowledged that for reasons of safety and / or convenience, parents may wish their child to have a cell phone at school for personal reasons e.g. to phone home when after school sports practice is finished. If it is necessary for a cell phone to be brought to school, it must be turned off at all times and out of sight, unless the student has permission to use it for learning purposes. If a student is found to be using a cell phone during the school day, the cell phone will be removed for safe keeping and returned to the student after 7 days.
Parents are welcome to communicate with their child during the school day by phoning the college office. We are happy to pass messages on to students. If the need to use a cell phone arises during school hours, the student must report to the office or student centre to make the call.
The school takes no responsibility for the theft of a cell phone or other personal technology devices at school.
Photos of Students:
We like to celebrate the successes of students as well as share with our school community the many and varied activities of our students. For this reason, photos of students are published in school newsletters, in our Community Newsletter, Hauraki Herald and other publications. We require the consent of parents / students to use photos for this purpose. Please refer to the enrolment form.